I started my one of my New Years Resolutions a month early. Getting into shape. Duh, everyone does that one. I'm no different. It's called: Define, Define Body & Mind. Do it. It's a combo of pilates, yoga and ballet all jam packed in one hour. It's great. Makes your thighs burn. I need that. Hank has a great blog too. Check it out. My sister, Kate, she teaches at Define. We make each other laugh when she's teaching. It's really distracting. Sorry if you ever witness that. It's actually more like me cutting up in class like a naughty second grader. I make faces at her whenever this song comes on.
And I also do ridiculous dance moves in between sets. I embarrass myself and her. It makes working out fun.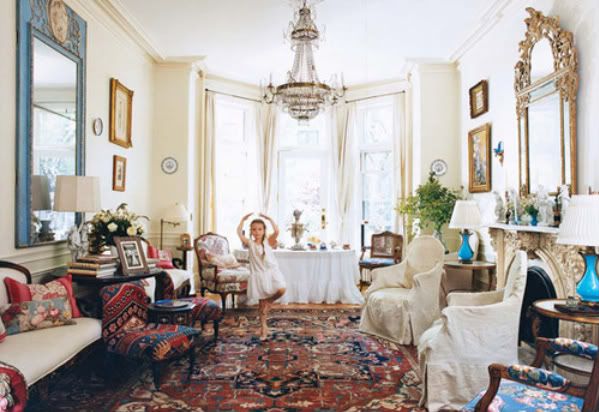 I love this little piroetter. And that space she's dancing in. It would make ANYONE want to dance, how gorgeous. Nothing beats a big ass old Heriz carpet. Opaline lamps and slipcovers? Yummy. See y'all at Define!