There are so many good things going on right now. I'm having a big party on Friday, October 1st. You're all invited. It's the
http://www.lesueurinteriors.com/
launch party! Seriously though, if you're in Houston or near by and a. want to come hang out and meet me (
my sister
, my mom etc), b. want drink a delicious

LeSueur

Interiors inspired cocktail with sonic ice, c. are keen to meet some cool design obsessed

Houstonites

, d. get to take home a

LeSueur

Interiors 'Lagniappe' candle as a party favor, and the bonus is: d. you get to snoop around my house … you're more than welcome (and email me your address so you get an invitation). OK, can't wait to see you all over here!

One bonus of a party is getting to do exactly that, party. Drink, dance, visit, laugh, have a good time. The other bonus is that you go crazy fixing your house up and so much gets done "for the party". I've been crazy, I love it. I have a little powder bathroom renovation going on including a wallpaper that I need a second mortgage for. And my deck needs major sprucing. The bar is going on my deck. I keep thinking maybe people will be so focused on my delicious cocktail they won't look over at my neighbor's junk yard? Hum, probably not. I need a solution. I am thinking about these awesome antiqued French pots :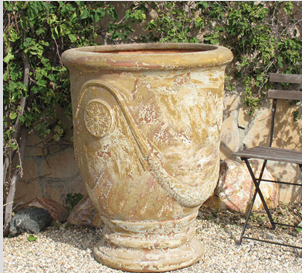 Imagine x 3. A lemon tree, orange tree, kumquat tree. So chic. Hides the neighbor's jacuzzi that lives at the end of their driveway, well..a little.